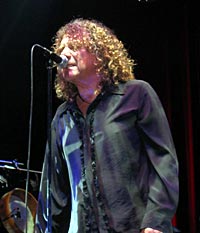 Robert Plant's album, Mighty Rearranger, released on 10th May 2005, is an extraordinary work from one of the most inventive, consistently daring and talented figures in contemporary music. Plant's band The Strange Sensation who worked with him on 2002's Grammy nominated, Dreamland, have been vital in the development of what looks set to be one of this year's most talked about albums.
Robert Plant and The Strange Sensation formed in 2001. The band draws together talent from across a broad spectrum of contemporary musicians: Clive Deamer (drums) from Portishead and Roni Size projects; John Baggott (keyboards) of Portishead and Massive Attack; Billy Fuller (bass) - from Bristol band 'Fuzz Against Junk; Skin – ambient guitar formerly of Brit Pop phenomena Cast and Justin Adams playing gimbri, darbouka and guitar, late of Sinead O'Connor, Jah Wobble and the Wayward Shakes. Their first album together, Dreamland was informed by Plant's attraction to and affection for the music of Southern Morocco, and the psychedelic indo-rock of mid to late 60's.
Mighty Rearranger was written and created in Snowdonia, Wales and in the lea of Solsbury Hill, in Somerset. The album developed organically, arising out of joyful anarchic experimentation.